Reviews We Love
"

I can't rave enough about Windsor Ballroom and their amazing staff! My experience exceeded all my expectations! Not to mention all the staff I interacted with throughout my weekend stay – everybody was genuinely friendly and helpful. My wedding was absolutely perfect! Everything I wanted and then some. The food was phenomenal! All my guests were extremely impressed with how delicious everything was. I'm just so happy with my whole experience here. It's a wonderful place to have your special day!

"

The Windsor Ballroom was beautiful, classy and elegant with a touch of modern ambiance. The food is excellent and there are a ton of fun stations to add to cocktail hour and dessert. They were helpful and professional, from answering all of our questions to making sure every last detail was perfect. They took care of everything and were an integral part of our wedding day.

"

We were thrilled with our experience at the Windsor Ballroom! They were always so responsive to any questions that we had. They helped us to feel confident that all arrangements would be made as we desired. They gave us a phenomenal package deal for the ceremony and reception, which included a wedding cake from Chocolate Carousel. We could not have been more satisfied with the service and quality of the food and venue as at the Windsor Ballroom. It is a beautiful and elegant venue that offers very reasonable and comprehensive packages with a phenomenal staff dedicated to great service.

"

From the beginning, they were responsive and accommodating. Working with them to plan such a big day in our lives was super easy with zero stress. Leading up to the wedding they took some of the reigns which lessened the load on us. We worked with Andrea to finalize all the details and menu for the wedding. Then we coordinated with Ty who took inventory and instruction for all our added touches. It honestly felt like he shared our vision. The day of the wedding was perfect! Irma and Ty were in full control and made sure not only us but our closest family members were taken care of for the entirety of the event.

"

From the moment we walked in on our first tour, the catering team bent over backwards to make sure we had everything we needed and wanted for the price we were looking for. For finalizing the arrangements, we worked with Sydney who is super bubbly and excited and amazing at keeping everything in order. The food is phenomenal, the waitstaff is extremely courteous and go above and beyond, and the maitre d, Ty is basically Superman. The true hero of our tail, though, is Irma. Irma is one of the "captains" of the waitstaff, and she's the most amazing woman ever. From the moment we got there for pictures, Irma was there for anything my husband or I needed. The entire team is incredible, with major kudos going to Sydney, Ty, and the amazing Irma!

"

I just wanted to take the time to thank you for all your hard work in making our wedding the best wedding EVER! Ty with his organization and charm, and Irma with her kindness and willingness to address any requests from our guests… just fabulous! They make quite the team! And ladies, my gazillion email questions weekly, thank you for being so patient and always answering with such detail to put my mind at ease… Sam – you took us from start to finish, mapping everything out…thank you so much! You are the BOMB! We are so happy that we chose the Windsor Ballroom. You guys made everything so easy and enjoyable! We have friends and family raving about how much fun they had. "BEST WEDDING EVER" is what everyone has been saying, which makes us feel so blessed and happy!

"

I can't begin to imagine a more terrific outcome of my wedding day without first mentioning how awesome the Windsor staff was. They made the entire weekend so much more than just our wedding. They went above and beyond the call of duty with regards to them hosting our event. The dedication and diligence that Tara and the rest of the staff exuded was second to NONE! I can't thank you ladies enough for your unparalleled commitment to excellence and for making our wedding the best day of my life.

"

From our first visit to the final detailing appointment and finally the big day, Tara and her crew maintained such professionalism, patience, organization, and communication with us. As a bride, you're always concerned that something will go wrong, something will be forgotten, or an important detail missed. I'm happy to say that our day was flawless and perfect! The newly renovated ballroom was stunning, and the food was AMAZING!

"

From the moment we met Tara, we knew we had to have our wedding there. She is so sweet, caring and never leaves out any details – always right on point. Sitting with Tara and planning the wedding is like sitting with a best friend. She is awesome and I highly recommend the Windsor Ballroom. It's a must see and must book for all your events. We will definitely be back for sure! Thank you Tara and Windsor Ballroom!

"

I had the honor of working with Lindsay, Tara, and Samantha. All three women were wonderful to work with and never failed to make me feel as though I was the only bride they were working with. Samantha was so sweet, yet very professional and business oriented, which is how I am so it gave me a sense of comfort and trust. The day of the wedding I was completely blown away, the ballroom had been transformed into the room I had envisioned. Everything was perfect and I would not have changed a thing. Windsor Ballroom goes over and beyond to ensure everyone is happy and taken care of. If anyone is looking for a venue and is on a budget, this is the place to go. Trust me!

"

Everything was as wonderful as we had hoped. We thank you again for another great party which is nice to be able to say after having 7-8 different events with you.

"

Knowing that we would have an amazing team by our side all day on our special day helped make everything even more perfect. We had our ceremony on site as well and most of our guests stayed over. Everything was pulled together so perfectly!! I would recommend the Windsor Ballroom! You will not be disappointed! Best day ever!

"

We originally chose the Windsor Ballroom because of the price, Tara, the hall and cocktail hour lounge, and because we wanted to have our reception with a hotel. What we got was some of the best service we could have hoped for, and I would and have recommended the Windsor Ballroom to friends and family. I wouldn't change a thing about the day, the reception, or our selection. I can't thank them enough.

"

Tara and her staff made us feel like the only couple in the world booking their wedding. They took the time to show us around the whole hotel and explained in detail how the ceremony and reception would be set up. They showed us the beautiful gazebo and outdoor garden we could take our pictures in front of, and we did!! They made us feel so comfortable when we made the final decision to book there that we couldn't wait for the day to come.

"

We cannot thank you enough for taking such good care of us on our wedding day! You went above and beyond and made our day so special! The ballroom was amazing and everyone kept telling us how great the staff, food, and venue were, and we could not agree more! We will always have amazing memories about our wedding day and will not stop recommending the place! Thank you again!

"

You guys did such a terrific job and should be so proud of the wonderful, warm, hard working people that you are! Thank you again for all your kindness and patience. We were so impressed at all the time you took into the little details that made the day complete.

"

We had my daughter's wedding on May 25, 2014. Everything from the staff to the food and décor were wonderful. We also had a breakfast the day after the wedding and that was wonderful as well. The staff was such a pleasure to work with. We had many out of town guest, and I haven't received any negative comments. Everyone raved about the food, and Tara and the Maitre D' made everything wonderful along with all the venue staff and hotel staff. It was a wonderful wedding!

"

Tara was awesome and was always there for you, she even helped my girls bustle my dress when my buttons went missing. Having my wedding here was the best decision I could have made and I highly recommend Tara and her team.

"

I LOVE THE WINDSOR BALLROOM! It was our first venue we looked at once we got engaged, and it was also the last! Tara and her team are so amazing, helpful, and friendly. I couldn't have asked for a better experience. The venue is beautiful, and we loved that the reception was in the hotel, making it SO CONVENIENT for our guests.
Read More Reviews
Latest From the Blog
Must-Have Signature Cocktails for your Fall Wedding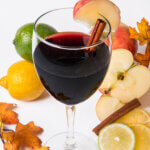 Must-Have Signature Drinks for your Fall Wedding 'Tis the season for pumpkin spice and everything nice. Fall is one of the most popular seasons for couples to tie the knot. It's easy to understand why: great weather, beautiful aesthetics, and delicious flavors. Give your guests the tastes of the season with delicious, fall-inspired signature […]
Continue Reading
How to Write the Perfect Wedding Vows
How to Write the Perfect Wedding Vows Wedding vows are a meaningful part of every wedding ceremony. The moment when the couple expresses their love for one another, make promises to each other and commit to each another for the rest of their lives. We've all been to weddings and heard the traditional vows of […]
Continue Reading
6 Things To Do After Getting Engaged
Newly Engaged? Congratulations!! We hope to be a part of your big day. Starting the wedding planning process can be slightly overwhelming so our team at The Windsor Ballroom is here to guide you through it. It is our mission to make your special day PERFECT! Let's start with the basics! Here are the 6 […]
Continue Reading
Read More From the Blog